Details

Published: Tuesday, 07 November 2017 11:47
Written by Super User
U12 National Youth Chess Championships 2017
On Saturday the National Youth Chess Championships for Under 12s took place in Kenilworth, Coventry and a Merseyside/Wirral team took part in the competition with juniors from Liverpool Chess club entering the event for the first time.
Six Liverpool Players, Marek, Bashar, Luke, Nikolas, Joshua and Alex along side six Wirral players Advait, Luka, Jacob, Daniel, Alex and Felix formed the joint team of twelve for the day which was nice to see with their coach Matt Battersby.
Aintree Garages (Used Car Sales) owner Mark Wynne kindly provided a seven seater Jeep for Liverpool junior manager Jim Gallagher to transport the Merseyside Juniors to the Coventry event which was a long day with a 7.45am pick up and last drop off at 8.30pm, huge thanks to Aintree Garages!
The Competition was strong from some of the top counties in the UK competing for the National title and some of the best junior chess players in the UK present. Richmond were favourites followed by Sussex and Warwick with South Wales, Merseyside/Wirral and Cheshire/North Wales also competing.
All games were played in a Jamboree random format with mixed players from all teams playing each other at the same time with all scores for each teams total points scores recorded.
The top 3 teams received trophies for each player and each team has a start player awarded their player of the tournament.
Things started well with Merseyside scoring 5.5 from 12 games in the first round, then 4.5 from 12 then 3.5 from 12 in the final round leaving Merseyside on a total of 13.5 points in 5th place but only 2 points behind the 3rd place Warwick on 15.5 points.
The final scores were:
Richmond 32.5
Sussex 23.5
Warwick 15.5
South Wales 14
Merseyside/Wirral 13.5
Cheshire/North Wales 9
All six Liverpool Chess club players won at least one game on the day but two Merseyside players won all three from three games played. Joshua Roque (pictures far right at back) on board 6 and top board Marek Korsinskij (also far right front).
Marek winning all three from three games on top board against the countries best players is a huge achievement and he is a year younger than his opponents, absolutely fantastic achievement! Marek is pictured receiving his Merseyside/Wirral man of the match medal from the event arbiter.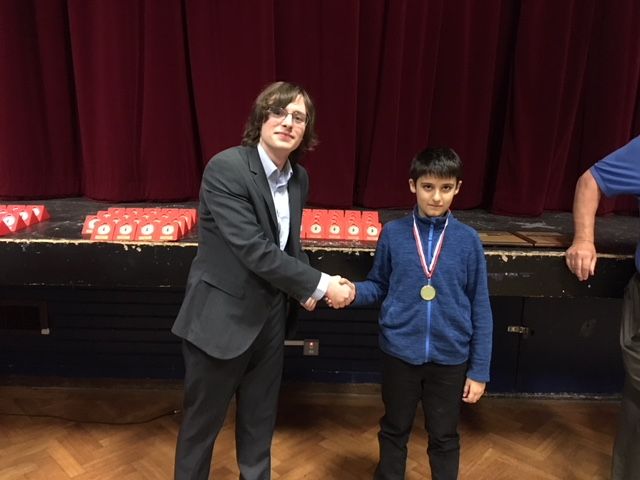 So it was a long day but a stop off at a fast-food-"restaurant" on the way back was a treat the team deserved for a great effort and a great day out for all involved!
Jim Gallagher